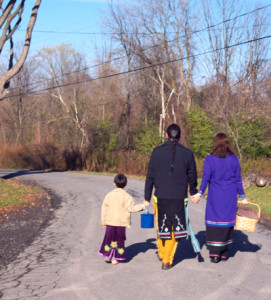 At Onondaga it is time to give thanks.  It is time for us to gather at the Longhouse for Hadiyeñtwagwas, or Harvest Ceremonies. 
These ceremonies that have been a part of life at Onondaga since the Creator placed us on Earth and gave us our instructions.  For so long, Onondaga parents have been taking their children to the Longhouse to give thanks for the gifts that the Creator has given us.  It feels so good to do the same for our children.
Our Harvest Ceremony lasts for 6 days.  It is always a great feeling seeing all of the familiar faces in our community coming together.  If someone isn't there, they are missed.  Our community works together to perform these important ceremonies that have been handed down from our ancestors.  Each member of our Nation contributes during our ceremonies.  Our elders, speakers, singers, cooks and dancers (young and old) all work together to continue our traditions.  It is such an uplifting feeling.
I hope we're not late.
Da•ne'thoh,
Dehowähda·dih