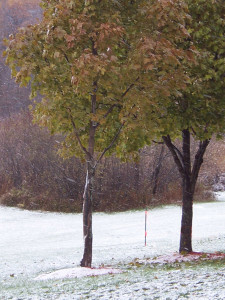 Our family anxiously waits for O'gä to arrive.  
My son, Haeñhyanonhña', can't wait.  We watch the local news guy on Channel 3, Chris Brandalino, for our "Storm Team" forecast about the impending storm that must be coming today… but hasn't.  He is beginning to believe that Chris doesn't know what he is talking about as there hasn't been snow even though he keeps showing snow on the forecast for some time now.
So this morning, we awoke to cheers as my son and his older sister made plans for sledding on our hill right after school.  Too bad it melted. Maybe tomorrow.
Da•ne'thoh,
Dehowähda·dih