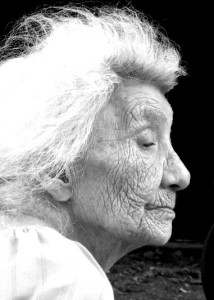 My gramma, Marion Green, turned 90 or 89 this March 8th, or was it the 9th? We simply don't know the right answer. My gramma's documents give conflicting information.
What we know is she went to Thomas Indian School, we don't know too much about that time in her life, nor does she talk about it too much. From that point on she hasn't spoken Onondaga. Our best guess at her age comes from my papa (grampa), Chuck Honyoust, and what he remembers about my gramma. My papa turned 90 last year, when he was young he remembers my gramma being in the grade below him. She preferred walking to get where she needed to go. She loves eating wild berries and milkweeds. She likes to be outdoors during the summer heat. Some of her favorite movies were Rambo and Rocky, but now she's found a new hero, Jet Li.
When I look at her now, I get a glimpse at myself in the future. She seems to be doing well for her age.  I get many things from my gramma, and one of them is her hair. I also got a little bit of her unique personality. When it comes to my grammas genes, I think they have gone to my daughter, she is tiny and spunky. Is my gramma 89 or 90? It doesn't matter.  All that matters is she is the cutest most lovable person I know. She will be returning from Florida in a few weeks, and I can't wait to see her!
Da•ne'thoh,
Wa'aientha'
Onondaga Eel Clan