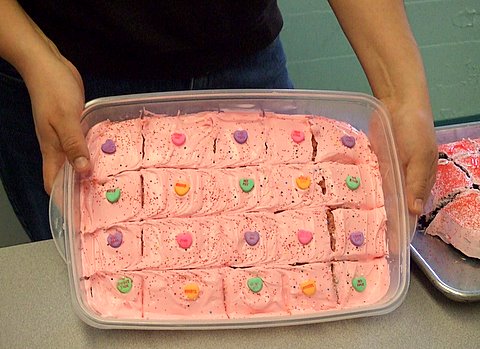 I know that the last two entries have been about food but…
The Kindergarten class advertised a bake sale at ONS for Valentines Day. When the Kindergarten teacher at ONS does bake sales, they are usually quite a sweet tooth feast. Today was no exception.
Brownies, cupcakes, cakes, candied pretzels, cookies of all kinds, fresh popcorn and so many other sweets that I couldn't remember then all were all lined up on these long tables, ready for hungry buyers with a sweet tooth.
Before my kids got on the bus, they remembered the bake sale and were busy doing "extra chores" for some change. It was worth it though as the kids were able to remember to pick up some goodies for us to bring home for dessert after dinner. Now all we have to do is coordinate the Corn soup dinners with the bake sales and we will be all set!
Da•ne'thoh,
Dehowähda·dih