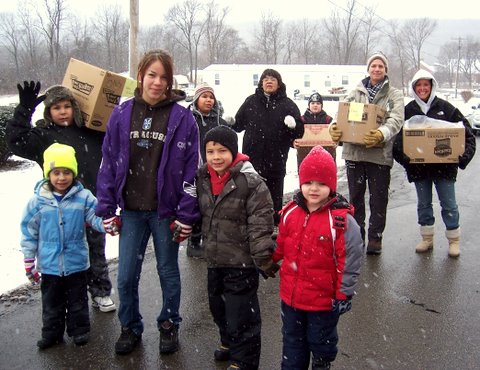 One of the great traditions of the Onondaga Nation School is Community Give.  It began in 1979 with an 8th grade class who wanted to do something for the elders in the community.  So the class made homemade food and crafts and went to their elders homes to deliver them.  It was such a success that more and more classes wanted to join in the fun.
Now so many years later, it is a school-wide event where all students and teachers in grades Kindergarten thru 8th grade write and make things for our elders. The goodies get packed into boxes and carefully carried to the welcoming homes of the elders. They offer their services for chores and most importantly take time to visit and connect with these special members of our community.
This year we had special guest, Peter Tigh.  In February, Peter began his tenure as Superintendent for ONS and the LaFayette School District.  In getting to know the people of our school, he was very excited to learn about the Community Give and asked if he could join also.  So for the first time in the history of Community Give, the Superintendent joined in.
Da•ne'thoh,
Dehowähda·dih