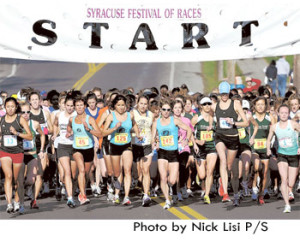 I don't know how my wife does this but she talked me into a running a 5K race. We signed for the 16th annual Festival of Races here in Syracuse NY.
It seemed like a great idea until the first Kilometer.
Well I knew that I was in trouble when I told my wife, "Oh, no we're too late. They already started the race!"
"No Dear, we're not late, they're just getting ready."
"So they're running before our race… " I knew I was in trouble. But in order to hide my worries about running with these gazelles, I informed my wife, "I probably won't win because I don't know where to run I don't want to get lost."
I don't know if it worked but I felt better.
Da•ne'thoh,
Dehowähda·dih