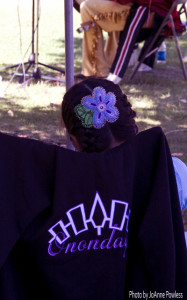 For the end of summer for our family means one thing, traveling to Hammondsport, N.Y. for the Festival of Lights. 
A quite a few years ago, my niece was asked to join a Haudenosaunee dance troop which shares our Onondaga social dance songs with the people and visitors o the small town of Hammondsport on the bottom of Keuka Lake. When my niece started dancing, she was just a teen, now 10 years later, my daughter was asked to come and dance with her.  Wow how time flies.
The Genundowa Festival has many great memories or us as a family.  Since it occurs during Labor Day weekend, it was a great place to celebrate my father's birthday.  Since it was a dance and craft festival, it was great to watch my mom go and visit and buy jewelry, especially silver bracelets, from the vendors.   For the kids, the last splash in the lake and even a dip in the pool. 
Since my mom's passing and my father got sick, it is still good to continue our tradition of going to Hammondsport.  And judging from my little ones,  looks as though they are excited to keep coming back too.
Da•ne'thoh,
Dehowähda·dih