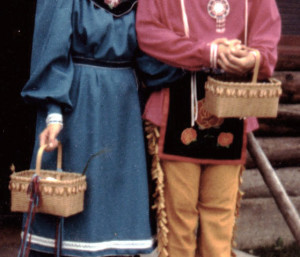 Its our 16th anniversary today.  
We were talking over a quiet dinner (babysitting is awesome) about that day 16 years ago.  The Haudenosaunee have different marriage rites.  We don't have bride's maids, best men, a walk down the isle, and a long white dress you can get at Bloomingdales.  We were talking about how busy we were in preparing our wedding outfits… the cutting, the sewing, and the beading.  Oh the beading!  
Anyway at Onondaga, it isn't the father that gives away to bride to the groom.  We do things a little bit differently.  The speaker asks the mothers of the bride and groom if they will accept them into their family.  If they do not accept, then the wedding is off.  I'm so lucky that I have a great mother in law who said "yes".   After hearing and instructions of the speaker, one of my most memorable moments is when we all hugged!  What a great feeling and a memory I won't forget.
In case you are wondering, we don't exchange rings either.  We exchange baskets.
Da•ne'thoh,
Dehowähda·dih