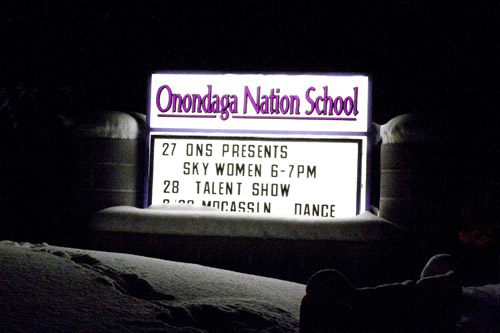 ONS has a new music teacher. Her name is Miss Wolfe.
So this new teacher has new ideas and is willing to try new things.
The winter concert has always been an event which would bring everyone out of their comfy homes into their cars and make their way to the school gym to hear the chorus and band play. This time however, Miss Wolfe and our Art teacher Mrs. Homer decided to do something different, challenging, and got the who school excited … a play.
Mrs. Homer and Miss Wolfe wrote the play based on the Haudenosaunee Creation Story which all of the students (grades K-8) would have a part. The kids loved it and so did the audience. The play was a mix of traditional Onondaga social songs, musical arrangements, and acting. It was definitely worth the trip!
Da•ne'thoh,
Dehowähda·dih