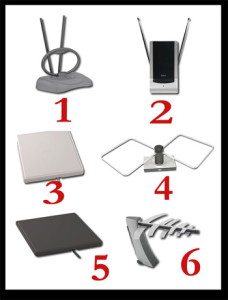 Growing up at Onondaga (the People of the Hills), we all live at the bottom of a large hill. Large enough to block the tv towers. So I grew up watching channels 3 (NBC) and 5 (CBS) only, and when it snowed, how exciting, we could watch PBS too!
So when I settled down in my own home with my wife and children, I was used to the limited channels. Satellite T.V arrived and people were able to get more than 2 stations. But my wife and I resisted. We knew the lure of 100 channels and while we like to think we were giving our children a family life not centered around the latest programming, we really knew that it was our own brains that we were salvaging. We like to zone out just as much as the next family, and worried that having that many choices may prove too much. Good bye family dinners, Dad's favorite movie is on. Tuck yourselves in kids, Mom's home makeover show just started.
Now we find out that we have to go digital tv by February. We had been putting it off but we finally applied and received our coupon for a digital converter box. After we hooked it up, we thought we were ready. But we were mistaken. No reception. Now we needed an antenna. What's the point of digital if you don't get any more channels than when you started?
Off to Best Buy I go. When I get there there are so many choices. But I'm cheap. I buy the least expensive one I find (#1) and hook it up. Too our delight, we find that digital tv has a sharper image! Now we get NBC, CBS, PBS & FOX now, but not ABC. I check on the web and it says you should get ABC. For the first time in my life I want more channels. I am consumed by it. I grab my keys and yell to my wife I'm going back to Best Buy! Fast forward one week of going back and forth to Best Buy every day with a receipt and previously opened box, walking past my silent but clearly amused wife, I list my results here, in hopes my time and effort will benefit other non-cable, non-satellite tv watchers (is there anyone else?) Anyway, I found out that #2 and #4 were the worst. Number 6 was going to be the most expensive so I'm so glad that #5 works great in our home so I didn't have to buy it.
So now we can watch more than 2 channels on our couch for the first time.
Too bad that football season is almost over.
Da•ne'thoh,
Dehowähda·dih