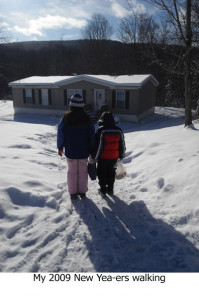 What a wonderful time of year! It is a great time to wish everyone a Happy New Year. At Onondaga it is a tradition for the children to walk to the homes and shout "New Yea! New Nea!" and this year was no exception.
But this morning we woke to a cold cold morning. The clear blue sky against the newly fallen snow was just beautiful. So after breakfast and some puttering around the house, I told my anxious kids to get ready to go New Yea-ing.
We live on the outskirts of the village so it takes us a little while to get to any homes after our neighbors, so we look forward to afternoon of walking into the village and visiting the houses along the way. But this New Years was different. #1 It was really cold & #2 I am a year older.
So for the first time, I went New Yea-ing in the van! I bet my mom was just shaking her head looking down from Creator's Land at me. Just to make sure that I didn't make it too easy on my kids, as I told my kids how I used to New Yea in much colder weather then this, I had the window open, but just a crack.
HAPPY NEW YEA!
Da•ne'thoh,
Dehowähda·dih