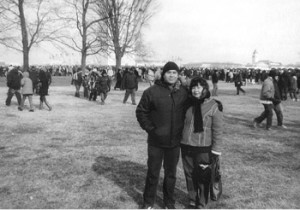 Barack Obama burst on the national scene in just a few years- he was virtually unknown in major political circles.  He wasn't born into a family name with endless opportunities.  He worked, was elected to the Senate in Illinois, and he carried a message to the people.  Two words became synonymous with Obama- 'Hope' and ' Change,' two words a country desperately needed. The youth, minorities, everyday folks, were drawn to the platform of promise.  Barack Obama's road to the White House culminated January 20, 2009 in Washington, D.C. with his historic inauguration ceremony in front of a record crowd and millions of viewers around the world.
Our main reason for traveling the Nation's capitol was to attend another ceremony.  The eldest of our family, Mitchell L. Bush, was receiving a lifetime achievement award from the American Indian Society of Washington, D.C. (AIS) at their inaugural ball held in Arlington, Va.  "Bushy" was one of the founders of AIS in 1966, retired from government service in 1985 and continues to help out any natives in the D.C., Virginia area.  Traveling with my brother Tony Gonyea and son Steven, we arrived Monday evening, in time for the AIS sponsored pow wow.  Our peoples gathered from the four directions, taking turns at the drum, sharing songs, giveaways, till long into the night- what a way to welcome everyone! 
We started out early Tuesday morning with our brother Stephen who lives in the area to get the capitol, but right away, we knew by the crowds already gathered at the metro station in Arlington, it wasn't going to be easy. To get a seat, we rode away from D.C., then came back.  The crowds of people waiting to get on the subway grew larger at each stop- some trying to squeeze inside the car we were riding in.  We were already packed in.  There was electricity in the air, as families held hands with their children, people all races, ages, had a look of anticipation.  Getting closer to the capitol area, we were disappointed to hear the announcement, the metro stops at the mall were closed, so we were all exited in Chinatown, many blocks away from the event.  Ordinarily, Chinatown would be a great place to visit- with all the shops, but not today, so we started our longest walk to get to the inauguration.  Many sections of the Capitol mall were already closed off, and the crowds kept coming.  We were scrunched in at bottlenecks and worked our way around.  We lost Tony at one of the bottlenecks, but kept in touch with our phones.  We also ran smack dab into Jesse Jackson; apparently he was in the same boat, trying to maneuver through the crowds and road blocks.
On our trek we met limousines- couldn't see who was in them, waved anyway, lots of secret service, police, army, they were everywhere, even helicopters flying overhead.  The sun was out; it seemed like a perfect day.  People were happy, smiling, sometimes an Obama chant could be heard, we kept walking, trying to find a spot. Full, closed, move on. Walk some more. 
We ended up far away from the capitol steps, but we could hear.  Roars of clapping, shouts rippled through the sea of people now shoulder to shoulder when the new President took the oath.  More roars during hid speech.  I couldn't see, but I could hear.  Steven managed to work his way up to a screen.   We were packed in as close as we could get, some people were in trees, others climbed on top of the port-a-johns to get a view.  Occasionally a rescue vehicle squeezed through with personnel shouting to make way, the space closed up immediately after it passed with more people.  We ended way down by the Washington monument, but just to be there, in that place, with a couple of million people was unforgettably moving.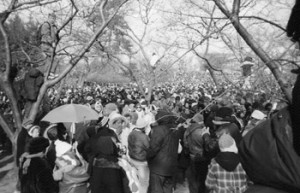 The ceremony ended.  The winds picked up, and temperatures must have dropped, because it seemed to get really cold, unless we had been warmed from all the crowded in body heat. As we waited in line for coffee, we saw Marine 1, the Presidential helicopter carrying George Bush circle around the area and away to his civilian life.  I can't recall when I enjoyed a hot cup of coffee more. We decided not to stay for the parade; there was a waiting time because the dignitaries were having a luncheon.  Tony found us again- he had a spot up near the reflecting pool, where he could see.  He was amazed at all the people, lots were crying tears of joy, he said.  Back together again, we continued our walk..all the way to Arlington Cemetery!  We walked across the Memorial bridge, cars weren't allowed on bridges that day.  I estimate we walked about 12 miles that day.   
Back at our hotel we saw the event's on the television screens, we were so glad to be warm and near food.   But next, we had to get ready for the AIS Ball. 
It was fun to see all the natives dressed up at the 11th Annual Native American Inaugural Ball.  The women wore beautiful gowns, many men wore tuxedos, a few; including Tony, work traditional dress.  The excitement of the day continued as natives who were in the inaugural parade mingled with tribal chairmen, people who had seated tickets to the Inauguration, and others like us, who were experiencing our first inauguration and ball.   People mingled, danced, ate, and enjoyed the entertainment and ambiance.  We were surprised to run into Shawna Cook and Mike A. at the ball.   Shawna was beautifully dressed- Mike too.  Our brother out-lasted us, spending the evening surrounded by friends of all ages-until all hours. 
The next morning we thoroughly enjoyed the AIS morning brunch with Bushy and his friends before we packed up and headed for home.  
Given the history of genocide, slavery, and the latest-anti immigration laws, I truly never thought I'd see Americans select a minority President.  I thought Hillary Clinton stood a better chance.  The pages of history are turning at an incredible pace.  Obama's new administration seems more open, connected to the people.  His call for unity-in his address- however raises questions, if he thinks Native peoples will jump into a melting pot.  For it is our differences, our inherent human right to remain who we are, well before those 'founding fathers' and his ancestors arrived on our shores.  Time will tell us how this new President and his new administration will treat us
Da•ne'thoh,
Gas'haen'hye