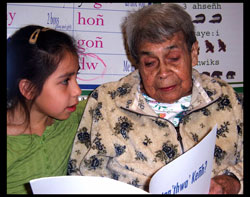 When an elder passes onto Creator's Land, are reminded not to morn the loss of the body because it's just a shell and she has already begun her journey.  But we are to remember the love, caring, and laughter that she left with us. 
And for Pheobe that means a lot of love is still with us. 
Whenever my family went to her house, it always felt like she was waiting for us to come and would invite us to sit and make us feel at home.  She would tell stories of "how it used to be" which would inevitably turn into many big laughs. 
Although I will miss seeing her sitting in her chair, I will hold onto the caring that she gave to so many and hopefully, be able to live my life like hers; full of family, love, and laughter.
Da•ne'thoh,
Dehowähda·dih