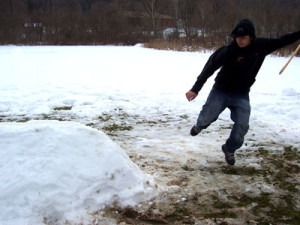 Winter time at Onondaga brings lots of snow!
So with the snow out came the Gahwanda or snowsnakes. The snowsnake track was built very quickly with the large amount of snow for the trackmakers to work with.
The kids at the school were so excited and came prepared to whether the cold weather with hats and gloves and many layers so that they could go out and play. They choose their partner, one throws and one marks how far it went, and played for two afternoons in a row. After a while, these boys were getting very confident with their throws and soon the snakes were flying down the track.
Da•ne'thoh,
Dehowähda·dih