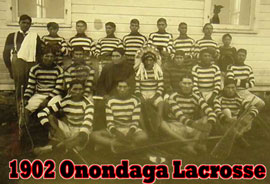 Onondaga and the other 5 nations have a close relationship to Dehontshigwa'ehs or Lacrosse.  The game is a gift from the Creator.  We give our babies sticks; we are buried with our favorite.
This past week has shown to many how important this game is to us.  The game is a part of us.  It defines us.  Its spirit runs through us.  To try to separate the game from who we are is unthinkable.
La-Crosse was adapted to the game by the French who watched us play.  Standardized rules were written.  Non-natives began to play.  By the 1900's Onondaga teams like the ones pictured here were playing teams from other nations as well as college teams. 
Then a new rule was written.  All native teams were considered professional and therefore unable to play field lacrosse against colleges anymore.
Many native communities then began to learn a new adaptation of our game, box lacrosse.  Games continued between nations, in the box, not in the field. 
But 60 years later, Onondaga leader Oren Lyons began a campaign for the Haudenosaunee to return to competitive field lacrosse.  Then in 1990 the International Field Lacrosse Committee agreed that the Haudenosaunee should return.  We returned as a separate nation to compete against other nations, as equals. 
Because the game is a part of us.
Da•ne'thoh,
Dehowähda·dih