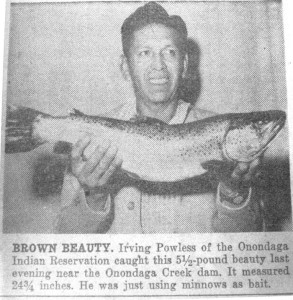 My grandpa was larger than life. 
He was many things to many people. To our community he was a respected Chief who would share his knowledge of the ceremonies and the Onondaga language to those who wanted to learn.  He was Hall of Fame lacrosse player who loved the game.  He would go to every game he could from the men's games to my high school games (even in the rain).  He was a terrific hunter who knew his way through the woods bringing home food for his family.  And he was a fisherman.
My father and Grandfather would go fishing after work.  Sometimes they would make trips to the surrounding lakes like Otisco but mostly they would fish the local streams on the Onondaga Nation.  Like many people on the Nation, they would bring home fish for dinner and a story or two. So when I was old enough, I was able to get minnows and night crawlers for our fishing trips. I was so excited.
On the way there, Grandpa would tell a story or two. One of the stories that my Grandfather shared with me while we were fishing at the dam on the Nation was how it used to be.  (note: the picture from the Post Standard shows why he liked fishing at the dam)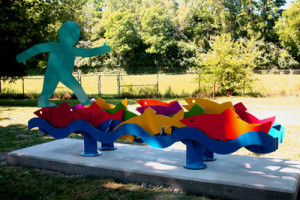 When we were fishing together in the late 70s and early 80s the waters of Onondaga Creek were getting muddy.  Upstream the industrial drilling accelerated the flow of mud silt into our stream making it difficult for the fish to flourish.  He fondly recalled a time when he was walking home at night after a successful evening of spearing.  He told of raising his lantern to see his way.  It was then when he saw so many fish swimming that he thought he could walk straight across the creek on their backs to the other shore.
It is great story to tell.  It reminds people about how important the waters are in our lives.  That Onondaga creek used to sustain our people with food and drink and kept us healthy.  It is a great story to tell to help remind people that this stream isn't just barrier in trying to Gannon's Ice Cream on Valley Drive.
Then in the end of July, sculptor Peter W. Michel erected his new piece called "Honoring Onondaga Creek ".  The Post Standard took pictures of the unveiling of the colorful fish filling a stream and a man walking across their backs. I quickly showed my father the Post Standard article and photos of the event.
My father, now 81, smiled and sat for a moment looking at the photographs.
"It's Grandpa's story", he said quietly.
We both sat and remembered.
Da•ne'thoh,
Dehowähda·dih