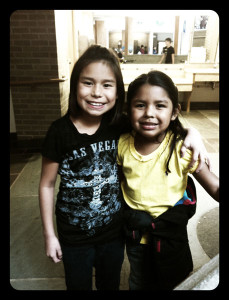 Twice a yearparents come to eat with their children at the Onondaga Nation School, Harvest and Spring Dinners. It's quite an event. It's more than a meal it is…
… an impressive show of our children's involvement in Harvest  and Spring Dinner, their fingerprints all over it.  They help the elders, serve food, fundraise money for their class trips, take pictures, clean-up, and run errands, and decorate. Each class contributes to the menu. The different departments tackle different tasks for a successful meal.
… a perfect time to raise some money for the individual grade levels by selling t-shirts, raffles or handmade pies. Sometimes there will be a book fair, sometimes a small art show to display the students' latest accomplishments.
The Fifth Grade class sold t-shirts and pencils for their end of the year class trip during Harvest Dinner. They made a $318 profit. They would like to say " nyawenha to all who stopped by to check them out!"
The Third Grade sold blanket raffle tickets during the dinner. The winner of the blanket was Mike Moses.
The winner of the K-3  50/50 raffle was Connor Thornton. He won $215.00!
… a time for Traditions old an new. There are generations of ONS Alumni that regularly commit to this event. The young and old  are eager to eat and drink corn soup, mush, hotscoons, and strawberries. Remember eating in the Language room? In the library? The school is now equipped with a larger gymnasium that can hold the large number of people coming to eat. Families don't have to carry their trays up and own the stairs in order to eat.  Although, there was something intimate about eating in the classrooms. Now its just a technicolor memory.
This Fall's dinner showcased two Giving Trees. From their branches hung notes pronouncing what people are thankful for this Harvest Season. I'm thankful that for the enthusiasm and coordination involved in putting this event together… see you at Spring Dinner!
Da•ne'thoh,
Wa'ayentha'