March 9, 2015
On February, the Syracuse Post Standard published an article stating that the Onondaga Nation is expected to receive money from the federal government for housing.  This has led to many inquiries which merit a short story.
In 1971, The State Department of Transportation and the Onondaga Nation were at odds.  The State wanted to expand Interstate 81 through the Nation; the Onondaga Nation did not want any more land taken by the State.  The State declared imminent domain through the land of the Onondaga.  The Onondaga stated that they have always been and always will be a sovereign nation. The State declared civil and criminal jurisdiction. The Onondaga stated that they have always been and always will be a sovereign nation.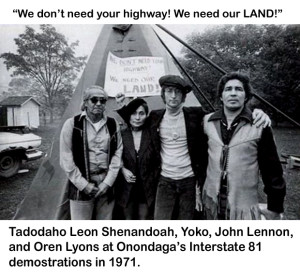 Many Haudenosaunee and non-native allies (like John Lennon and Yoko) came to the aid of the Onondaga who were now peacefully demonstrating along Interstate 81 preventing any construction. The State and the Nation were at an impasse for many months.  The last resort the State had before going to court was to offer more and more money to the Onondaga.  The Onondaga Council understood then, as it does now, that if the Nation accepted funds from the state or federal government; that our sovereignty would begin to erode.  The Nation therefore declined the offer of money.
In federal court Albany in 2010 a similar issue arouse about money. The court heard arguments from both state and Nation lawyers on whether the Land Rights case should continue in federal court.  As the Nation presented its case outlining our principles and ideology that is attached to our homeland.  The state lawyers began to recognize the conflicting viewpoints between the two cultures.
.One state lawyer said to Judge Herne, "They [the Onondagas] don't want money and they don't want casinos." (pause) "Then what do they want?"
To which Judge Herne responded, "Justice."
In 1972 the Nation found justice when the federal court ruled that New York State does not have jurisdiction and the right of imminent domain on the Onondaga Nation.  Interstate 81 was not expanded through the lands of the Onondaga Nation.
So when the headline read that money was coming to Onondaga, we knew it was wrong.  Turns out it was.  No one from the Onondaga Nation has requested funds.
No one will.
Da•ne'thoh,
Dehowähda·dih
Click for a video on the Interstate 81 demonstration