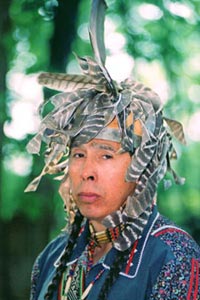 The Creator gave us a Way of Life. These guidelines help us remember our duties as Onondaga people. Part of duties is to take care of mother earth. Part of taking care of mother earth is to perform ceremonies and giving thanks to Creator and all of creation for still performing their duties. People responsible for ensuring that our ceremonies are still being performed, hold a great responsibility in the community. These men and women are commonly called "Faith Keepers". These people refer to the seasons and the lunar calendar to decide on when our ceremonies are to take place.
There are many ceremonies that take place throughout the year. Our first ceremony to begin the new (lunar) year is called Midwinters. MidWinters lasts for 21 days. Each day we are giving thanks for many different things and performing different ceremonies. Midwinters provides a great feeling of harmony with the Creator and celebrating our time together on mother earth.
Listed below are our of our ceremonies that were given to us to perform by the Creator that are still being conducted in the longhouse today:
Midwinter Ceremonies
Maple Sap Ceremonies
Planting Ceremonies
Bean Ceremonies
Strawberry Ceremonies
Green Corn Ceremonies
Harvest Ceremonies
Lunar Calendar
The faith keepers who are responsible for initiating when these ceremonies begin rely on the lunar calendar. Below are the names of the moons and the translation of each.
| Onondaga | English |
| --- | --- |
| Hisatuh | Treacherous little winter |
| Ganahdoha | Leaf buds are on the leaves |
| Ganahdogo:nah | Moon of many leaves |
| Ohiaihah | Little ripening of the berries |
| Ohiaihgo:nah | Great ripening of the berries |
| Saskeh hah | Long daylight |
| Saskego:nah | Big, long daylight |
| Kendenhah | Deer has a short tail |
| Kendenhgo:nah | Deer has a long tail |
| Jotowehhah | Return of the little cold |
| Jotowego:nah | Return of the big cold |
| Disuh | Long nights, short days |
| Disgo:nah | Longer nights, shorter days |