Long Ago Onondagas as well as the Senecas, Cayugas, Oneidas, and Mohawks dwelled in large bark homes which held members of a clan. The building reached as long as 200 ft. As a means of protection, communities built large fences referred to as palisades. The longhouse is also an important symbol to the identity of the 5 nations. The union of 5 nations can be seen as a longhouse stretching across present day New York State. The word Haudenosaunee actually means – People of the Longhouse.
200 Years ago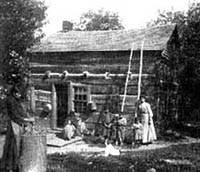 About 200 years ago, the Onondaga began to adapt to the new advances brought to their territory by their white brothers. Gradually the people moved from the communal "clan" longhouse to extended nuclear family cabins.
The cabins were quite a size difference from the longhouse. From the long rectangular homes, Onondagas built two room cabins, maybe the home had a second story. Here families continued to rely on aunts and grandparents to help raise the children.
Today
Today, Onondagas live in a wide assortment of homes. At Onondaga, people build log homes, two story homes, ranch style houses, and mobile homes. At Onondaga, the banks do not lend money to people building on Onondaga land because the land and the home cannot be used as sucuruty for the loan. The property cannot be taken if the loan is not repaid. Therefore, homes that are built belong to the homeowners as they have raised the capital to build it.