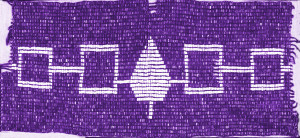 Wampum is created from the shell of a clam. The bead is cut from the white and purple parts of the shell. The shell is thought of as a living record. The speaker puts the words of the agreement into the wampum. Each speaker thereafter uses the wampum to remember the initial agreement and the history that has happened to date.
Wampum has many uses. One of the uses is to invite the other nations to meetings. These wampum strings are given the topic that all of the nations are to meet and discuss about. At the end of the wampum string is a wooden stick. The wooden stick tells the people of the nation when the meeting is to take place. As each day passes, a notch is cut off the stick and when the notches are all gone, the meeting will take place.
Wampum also symbolizes titles within the Haudenosaunee. Each position of a Clan Mother of a Chief has their own wampum string. When a person holds this title for the Nation, they carry the wampum to show their place in the community. When a leader falls, the wampum is passed on to the new leader.
When a string of wampum that is held in a person's hand, they are said to be speaking truthfully. During ceremonies, the wampum strings are used to convey that the speaker's words are true. People listening to a speaker holding the wampum also know this and are very attentive and respectful of the speaker's message.
Wampum is very important to the Onondaga and the Haudenosaunee. Therefore when the wampum left the community through the efforts of anthropologists, the Onondaga Nation worked diligently to have the wampum return. In 1989, some belts returned after the determined efforts of the chiefs to bring these belts back to the people.
Read Chief Irving Powless Jr.'s account of The Day that 12 Wampum Belts Returned to Onondaga.