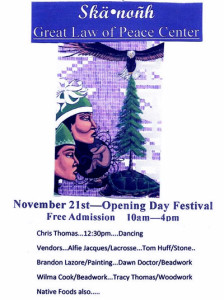 Liverpool NY – On Saturday November 21st, The Skä•noñh Center will open to the public from 10am to 4pm.  The Center is located on the former French fort on Onondaga Lake and was called Ste. Marie Among the Iroquois.
The site has been re-purposed from telling the story of the French Missionaries to informing the public about the Haudenosaunee and Onondaga history of peace.  The Onondaga lake is a sacred site for the Onondaga as it is the central to unification of five warring Nations to five Nations, united with one mind.
Saturday's events include Haudenosaunee singing and dancing demonstration at 12:20 by Chris Thomas as well as crafters such as Brandon Lazore, Tracy Thomas, Dawn Doctor and lacrosse stickmaker Alfie Jacques.
For more information, visit The Skä•noñh Center website or stop by at 6680 Onondaga Lake Parkway, Liverppool, NY 13088