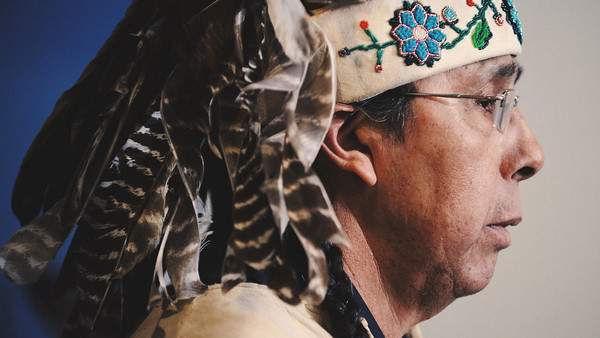 The Onondaga Nation is a sovereign nation of people with its own government. This government has been in existence for countless centuries. see Birth of a Nation
Hoyane – "Chiefs"
The entire Haudenosaunee (Six Nations Confederacy) has 50 chiefs. The chiefs are all considered to have an equal voice. To show that they are leaders, the Peacemaker placed the antlers of the deer on the Gustoweh (headdress) of every Hoyane. When in council, every chief has an equal responsibility and equal say in the matters of the Haudenosaunee.
The Peacemaker envisioned the chiefs locking arms in a large circle. Inside the circle are the laws and customs of our people. It is the responsibility of the chiefs to protect the people within the circle and to look forward seven generations to the future in making decisions. If individuals do not follow the laws and customs of the Haudenosaunee, they have "left the circle" and are no longer under the protection of the chiefs.
Onondaga Nation Council
Each nation was allocated a certain amount of leaders by the Peacemaker. At Onondaga, there are 14 Hoyane or Chiefs. The chief titles originate from the original 50 leaders' names from long ago. Tadodaho is a chief still sitting at Onondaga. Hiawatha, is still a chief among the Mohawk nation (he was adopted by the Mohawks to help form the first councils there). Each chief works with his Clan Mother and their clan. In council they are the voice of the people.
The Hoyane at the Onondaga Nation is divided into three separate benches. When an issue comes before the council, each bench of Hoyane all must agree before passing their decision to the next bench. When a decision by council has been passed, it comes with the backing of all three benches in agreement and is said that the chiefs are all "Of One Mind."
Raising Leaders
Once a man is selected to be a Hoyane, he holds that position for life. Men do not "campaign" within the community for such positions. The Clan Mothers carefully watch the behavior of the boys growing into young men. It is the individual's behavior that they have shown throughout their life which determines if a Clan Mother will select him to be a leader. So when a Hoyane passes on, the Clan Mother is ready to replace the departed Hoyane with a man who exhibits the qualities of a good longhouse leader.
Deposing Leaders
If a leader is not fulfilling his responsibilities to the nation and the clan, he can be removed. If the leader is warned that he is not following the ways of the Great Peace and must change. If he does not heed the warning and still does not changes his ways, the clan removes him as their leader in council. The symbol of a chief's authority of deer antlers his therefore removed and he is referred to as being "de-horned" and no longer leads the people.