By  Oñgwaweñna'
Onondaga Nation- The day is Friday, November 28th, the morning after most everyone filled their bellies with turkey, mashed potatoes, corn, green bean casserole and apple pie.
Runners woke to 32° and a fresh blanket of fallen snow. And even with the chilly winter conditions, Thirty-one (31) strong, welcomed the morning and braved the thought of tackling the Nation trail.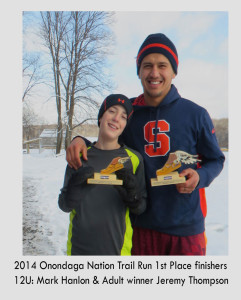 Pat Kawryga and her two adult daughters, of Syracuse, anticipated the upcoming run stating, "I hope the t's are as nice as last year, we loved them. I wore mine to the Mountain Goat run. We will spread the word on this year's run. We've already told people is was the most welcoming runs we've ever participated in!"
Runners would arrive and enter either the 1-mile or 3K (1.86 mi.) run.  12 yr. old Trevor Hill and 10 yr. old Hayden Hemlock chose to run both. Keep an eye on these two as I'm sure they have a great running future ahead of them.
People came to run in this year's event from LaFayette, Syracuse, Fayetteville, Liverpool, and Manlius. One family from Manhasset, NY, was visiting relatives over the holiday, and decided to come run the 3K.
Event coordinator Shirley Hill stated, "Many thanks to ONS Art and Tech Ed./MST teachers Chris and Jeff Capella for crafting this year's trophies. The trophies are a one-of-a-kind, with the shape of the Trail Run moccasin."
A big Nyaweñha (thank you) also goes out to Jasper Royal, Bruce Hill, Lennie Tucker, Kathy Hill, Karen & Debbie Webster, Cindy Squillance and Jack Manno.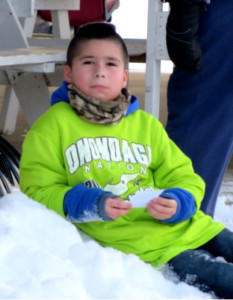 Shirley Hill added, "They helped in many ways, such as clearing and marking the trail, registration table and by donating food/refreshments for all.  We can't put on this event without the help from such great volunteers."
Runners expressed interest in a Spring Trail Run in 2015. With the growing interest, that just may happen come April.