Onondaga Nation- Firekeepers is under major renovations.  The former diner located just off exit 16 on the Onondaga Nation has been a home for many diners since 1983.  With the retirement of longtime owner Andy Cook, the Onondaga Nation has taken over daily operations.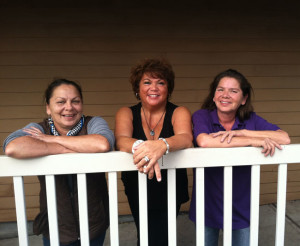 The Onondaga Nation has secured the services of Sisters April and Betsy Tarbell-Neu and Wanda Tarbell to manage Firekeepers.  Between all three ladies, they have a lot of experience in food service, management and a reputation of providing delicious meals.  They also brought fresh ideas to Firekeepers.
"The restaurant hasn't had any major renovations in quite some time. We want Firekeepers to have a fresh start," said April Tarbell.
Part of this new start will be a revised menu.  Customers will notice that our menu won't have any GMOs (Genetically Modified Organisms).  But it will feature locally grown produce, cooking with less saturated fats and a focus on healthy recipes.
"We hope our loyal customers will really enjoy the new menu options. And people new to Firekeepers can be added them to our list of regulars," said Wanda Tarbell.
When the restaurant reopens, customers will see an entirely new Firekeepers.
"The kitchen and dining areas has been totally remodeled," said Betsy Tarbell-Neu.  "We feel that people who come to Firekeepers will find it a beautiful destination for family dining."
Part of that change will be an addition to the current structure for smoking only, the rest of the restaurant will be smoke free.  A new seating configuration in the main dining area which will highlight the new open floor plan, a longer customer counter, pizza ovens and TVs, along with a special events/banquet room.
Onondaga Council member Jake Edwards states, "We wanted to provide the people in our community and our surrounding communities a healthy place to eat.  And with the 2015 World games coming next September, we wanted the world to enjoy Firekeepers too."
With renovations underway, there has been drastic changes.
"We can't wait for everything to be done," said all three Tarbells.  "We know everyone will love the new Firekeepers Restaurant when it's done."
Firekeepers is currently closed but will reopen this winter.