Onondaga Nation- This past summer, the New York State Education Department (NYSED) reached out to the Onondaga Nation School for assistance.  The State Education Department was creating modules to help support teachers in teaching the new Common Core Standards.  One of the modules that NYSED created was for fourth graders which focused on the Haudenosaunee.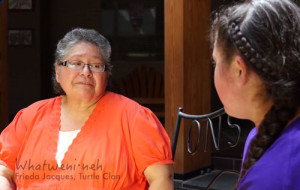 "The NYSED and Expeditionary Learning created a draft of the Fourth Grade Module," said Denise Waterman, math teacher at the Onondaga Nation School.  "The staff at the Nation School read the module and immediately had ideas on how to improve it."
Together a committee of teachers at the Onondaga Nation School, NYSED, and Expeditionary Learning began to make a better document.  The teachers at the school emphasized the importance of the work of the Peace Maker in creating a long lasting Peace between the 5 warring nations.  This Great Peace was not only a format for peace for the Haudenosaunee, but it created a method to create treaties (such as the Two Row Wampum belt), and was a blueprint for democratic governance in the United States.
"It is refreshing that the State (Education Department) came to us," said JoAnne Powless, fifth grade teacher at ONS.  "I hope that this is a good start to a collaboration to help educate people about us."
"They were very open to changes," added the fourth grade teacher Nancy Powless.  "They wanted to provide accurate information on the module."
Part of providing accurate information, the NYSED wanted a way for fourth graders from around the state to hear from fourth graders from the Onondaga Nation School.  NYSED and ONS began to organize filming sessions to come to ONS to record a dialogue between fourth graders and their teachers about the Haudenosaunee.
"The teachers and students involved did an awesome job," said Brad Powless, culture teacher at the Nation School.  "The people at the State Education department loved the videos. They thought that the videos were authentic, informative, and added so much to the module.  They believe that many will learn so much from them."
Click if you would like to watch the videos of:
Ms. Jacques and Riley discussing the Haudenosaunee Thanksgiving Address
Mr. Powless and Jonaca talking about What is Wampum?
Mrs. Powless and Haeñhyanoñhna' discussing Daily Life at Onondaga
Ms. Powless and Carson talking about Recording History through Oral History and
Ms. Waterman and Sydney talking about the Haudenosaunee or Iroquois?