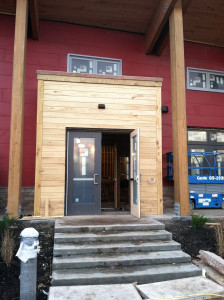 Architects Ed McGraw and Andrew Schuster of Ashley McGraw Architects came to the Longhouse to discuss the progress of Tsha' Thoñ'swatha' (the fire barn and community hall) construction last week.
The architects commended the Nation for its commitment to provide the people of the Nation a building built with high environmental standards.
"The Nation gave us a direction to build a firehouse and community center that coincides with its principles," said Ed McGraw.  "There is no firehouse with the attention to how it reacts with the environment like this one…probably the only one like this in [New York] State."
The Nation asked Ashley McGraw to design the building to not only uphold high environmental standards, but to use local products in its construction.
"It has been great working with the Nation," said Andrew Schuster.  "Not only did we try to use local products as much as possible, but we used local talent as well.  That is a bonus that this community can be honored of."
Ashley McGraw is an architectural company that looks to design buildings that are sustainable and compatible with the world around them.
"We are really delighted to be a part of this building process," added Ed McGraw.  "This is something that both Ashley McGraw and the Nation can be proud of."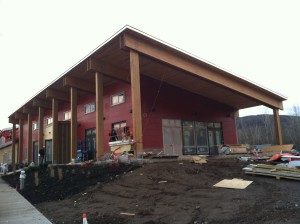 Tsha' Thoñ'swatha' is scheduled to open by March 2015.