By Summer Frazier
Oñgwaweñna'
photos by Matt Coulter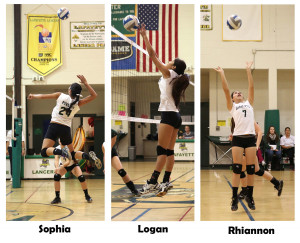 Onondaga Nation- Congratulations are in order for three girls from the Onondaga Nation: Sophia Powless, Logan Booth and Rhiannon Abrams. All three girls are distinguished students and athletes; they are fine examples of how hard work and determination pays off.
Sophia made a strong showing this year with 226 kills, 41 aces, and 70 blocks and being named OHSL Liberty First Team All-League, All-CNY Division II, and Class D All-State Fourth Team. Furthermore, Logan had 116 kills, 7 blocks and 18 aces; Rhiannon had 26 aces, 32 kills and 458 assists and both were named to OHSL Liberty Honorable Mention Team.
LaFayette Girls Volleyball had a tremendous season claiming the Section III Class D Championship.
"That was the best experience ever," said Captain Sophia Powless of the Sectional Final.  "Coach gave us an excellent game plan and we executed it to perfection."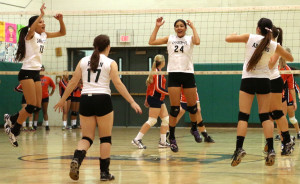 In the Semi-final match-up, LaFayette rolled over Hamilton to move on to the November 4th Championship game. Sophia recorded 12 Kills and Rhiannon added 17 assists to help Lancers win 25-21, 25-18, 25-18 over Living Word Academy.
Outside hitter Logan Booth said of their roll through Sectionals, "Beating a great team like Homer [in the regular season] gave us a lot of confidence going into Sectionals.  We really came together as a team."
When the Lancers headed to the Regional Final Class D on November 8th they would lose to Section 4 Champion Harpursville. Sophia led the Lancers with 4 Aces, 15 Kills, and 3 Blocks. Logan added 9 Kills of her own. Rhiannon also played well recording 30 Assists and 24 Digs in the loss.
"We played our best," said setter Rhiannon about the 5 set loss.  "Everyone played their hardest. Everyone gave it their all."
Despite the loss LaFayette's coach Abigail Lerch was impressed.
"This team has shown the most growth of any team I have every coached and I'm so proud of how far they have come," Coach Lerch said.
On the bright side, the trio are only Sophomores and their experiences will only grow.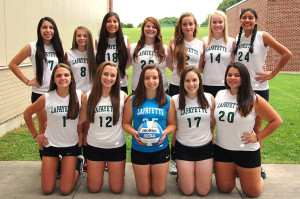 Sophia said about next season's squad. "Our seniors showed us all how to play together and leave it all on the court.  I can't wait 'til next season."
The three of them have also shown interest in travel volleyball club team called Onondaga Volleyball Club at OCC. This team travels the Northeast competing in various tournaments across New York State.
Their accomplishments have yet to be fully realized and they are off to a great start. We wish them all the best!
You can catch up on their 2014 Fall season by visiting the LaFayette Volleyball Website.