A generation knew it as Sainte Marie Among the Iroquois. But Saturday, the museum reopened as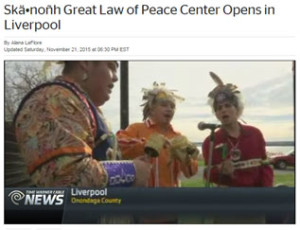 theSkä•noñh Great Law of Peace Center. It shares history from the Haudenosaunee perspective.
A ceremony with traditional dancing kicked-off the grand opening. Inside, visitors saw exhibits that explained the creation story and the Thanksgiving address. People also learned about native contributions to the American way of life. Each section is accompanied by a video featuring a member of the Haudenosaunee.