As construction has progressed on the AC Field, it became clear that this structure would be more than a Gahόñhsӓ' or "box"; it's new name is Tsha' Thoñ'nhes meaning "Where they play ball."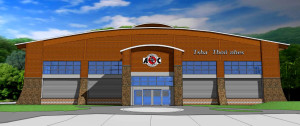 During the warm summer months, the wooden roof for Tsha' Thoñ'nhes will provide protection from the rain and hot sun. The building was designed to remain open for people to continue to come and play at their leisure and to enjoy the beautiful hills and stream around the building. In the cold winter months, the roof will provide protection from the snow and ice while the sides of the building can be rolled down and give shelter so that we can use the building year round.
The Tsha' Thoñ'nhes was also designed not just for one sport.  The doors at the end of the box are wide enough for an indoor soccer net to be brought inside for practice. The floor was also designed for another popular sport on the Nation, volleyball.  The floor will be able to accommodate four volleyball nets.  Special consideration for the type of artificial surface for Tsha' Thoñ'nhes was considered.  The surface selected has a softer, less abrasive, and natural feel that is also lead-free. If there is a desire to play in a large area without dasher boards, the boards can be removed allowing for a wide open space.
The seating at Tsha' Thoñ'nhes is designed to accommodate 350 people along the south side of the building with an accessible handicap ramp.  The bleachers are moveable and retractable for maximum flexibility.  There is a lot of room around the entire floor area for people to stand. The bleachers can be set up to view a game, host a craft show, or to watch a play.
Tsha' Thoñ'nhes will be more than a box.
Da•ne'tho,
Onondaga Construction Team