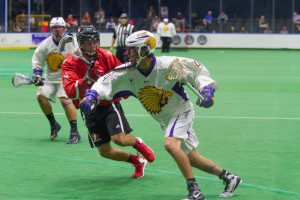 Syracuse – The Nationals came ready to play on Sunday in their game 2 of the 2015 WILC against
returning champion, Team Canada.
Things started out strong for the Nationals as their first shot on goal was a breakaway by Hiana Thompson which found the back of the net for a 1-0 lead.  After a Team Canada goal, Hiana's brother Miles had the highlight goal of the night with a backhand that beat the net-minder for a 2-1 lead.  The hustling Nationals added two more, the 4th goal came when a pressing Nationals created a turnover and Lyle Thompson was there to beat the goal tender inside for a 4-1 lead.  But team Canada was able to keep it close and by the end of the first the Nationals held a 5-3 lead.
The start of the second saw the Nationals continue to keep the Canadian shooters at bay.  With Angus Goodleaf between the pipes and an inspired defense, the Nationals were cruising to a 6-4 halftime score.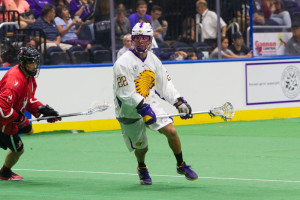 Coming out of the halftime break, the Nationals built their biggest lead at 8-4.  The War Memorial was hopping and the Canadians were in danger.  That's when the champions turned things around.   Their
outside shooters began to find a rhythm and scored 3 straight.  Then Miles Thompson scored on an outside shot only to have the Canadians answer on the ensuing face-off to make it 9-8 Nationals.
The forth period saw the Canadians tied it up at 9.  The crowd was into every possession.  Then with under 7 minutes to go, the War Memorial shook with a National's goal by Jeff Shattler.  Then the refs convened for a conference which resulted in taking the goal away and penalizing the Nationals for too many men on the floor.  Team Canada took advantage scored on the power play and added an extra marker for insurance.
Click for game photos
Next up for the Nationals is a Tuesday match-up at Tsha' Hon'non'yendakwha' at 4:30 against Team England.