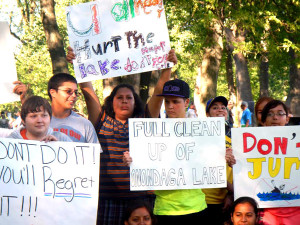 Onondaga Lake —Onondaga Lake isn't clean yet, and the Onondaga Nation knows it.  That's why over 20 Onondaga Nation youth stood up for their future and protested at the "Clean Lake Party in the Park" at which 40 local Syracuse politicians and celebrities jumped in the lake.
"I don't want to see anyone get sick or hurt from this lake," stated Pierce Smith, of the Onondaga Nation. "The lake itself is hurting."
While the dredging of the southern end of the lake was deemed "completed" by Honeywell on November 3, 2014, the "clean-up" of Onondaga Lake left at least 9,500,000 cubic yards of sediment contaminated with mercury, PCBs, pesticides, chlorinated benzenes, BTEX compounds (benzene, toluene, ethylbenzen, xylene), napthalene and other polyaromatic hydrocarbons, dioxins/furans, volatile organics and other chemicals behind. That's about 80% of the sediment that the Department of Environmental Conservation (DEC) itself characterized as being so contaminated that remediation was required.  The deepest dredging occurred in the In-Lake Waste Deposit area where an average of 6.5 feet and up to 10 feet of highly contaminated sediment was removed. However, the In-Lake Waste Deposit area –where industry dumped its waste directly into the Lake for years — is an estimated 45 feet deep.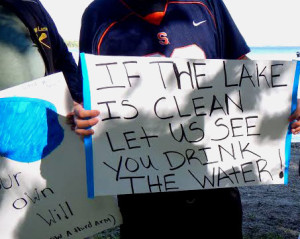 A pontoon boat emblazoned with the Honeywell logo was the launching point for the swimmers.  However, "swimmability" standards in New York only have to do with bacteria, algae, clarity and levels of other pollutants so high that they would cause skin rashes or other "acute" reactions from limited exposure. The improvements that allow the Lake to be declared "swimmable" are almost entirely related to improved sewage treatment. The industrial wastes that still threaten the Lake aren't likely to have the kinds of immediate effects that would make the Lake "un-swimmable" — they will, however, continue to pose a long-term threat to the fish, birds, animals and people who use the Lake.
"[Honeywell] thinks they can come out here and say they cleaned this lake, that they did it, and it's all a publicity stunt," observed Jasmine Appleton, Mohawk, Wolf Clan, who lives at the Onondaga Nation. The Mohawk Nation is part of the Haudenosaunee Confederacy. "They came here, they took over it, they polluted it. They picked the cheapest way to clean it up.  That's not the right way.  They're not looking 20 years down the road. They're looking at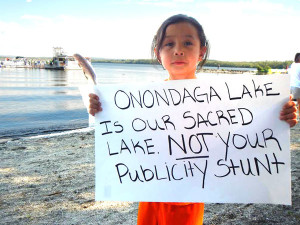 right now… what's going to be best for them.  They're not thinking about our people, they're just thinking about themselves."
Fish in Onondaga Lake are still considered too contaminated for women and children to eat at all. Many species are too contaminated for anyone to eat. This on-going contamination poses a threat to humans as well as fish-eating birds and other mammals. Reptiles and amphibians are particularly damaged by the contamination around Onondaga Lake and have been seen in greatly reduced numbers, if at all.