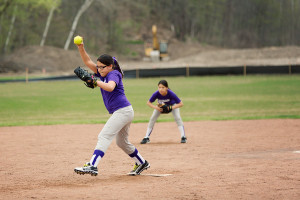 Onondaga Nation- The weather for the first time was over 80°, burgers and hot dogs were cooking and the macaroni salad and salt potatoes were ready to be put on the plates.  The ball field was hoppin' on Monday, May 4th, as the Onondaga Nation's pee wee softball team took the field.  This annual occurrence had some significance as this was the first time an official game was played on the newly renovated softball fields.
Softball on the Nation is a big deal.  This past fall the Nation renovated one field with a high quality infield and new outfield and created two other fields.  One for T-ball and another field equipped with dugouts and a home run fence.
"We (the council) wanted to make this happen for our softball teams," said Tadodaho Sid Hill who was there for the first game on the new fields.  "We hired a professional field builder.  And it shows.  These fields are beautiful."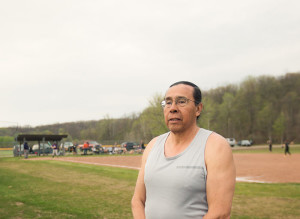 The teams no longer had to worry of an uneven infield or an outfield with divots.
Onondaga Coach Shirley Hill commented on the new fields as well.  "The field was excellent! In the past, sometimes our field was unplayable.  The girls know that the fields are new and they like playing on them.  Even the other team commented how nice the field was."
With the new fields there is an energy that the softball program will continue to grow.
"With the new fields, we now can have more practices, host more games, and even tournaments," added Coach Hill.  "With the added exposure to softball, I hope to see even more players want to come and play.  These new fields will only help."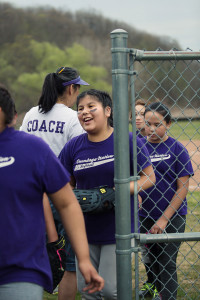 Although the fields are ready to play, there is still more to renovations to come for the softball fields as the fenced in field will soon be lighted.
"That (lights) will be a huge change for softball on the Nation.  Teams in the past played in the Syracuse Rec leagues but they never had a place to practice or play games on.  Now we will."
For the first time, the Nation can begin to prepare for summer tournaments, co-ed tournaments, all native tournaments, fall tournaments, and the 2017 Indigenous Games tryouts.
"We can now host these tryouts," said Coach Hill.  "That will give our players another opportunity to show the coaches how good our players are."
"We've always had great players and teams.  Now these fields can showcase our athletes." said Tadodaho.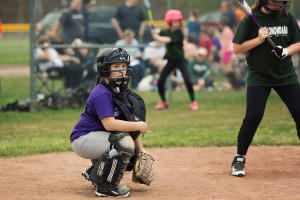 Contact the arena at 315-498-6813 for upcoming games.
photos by: J Powless