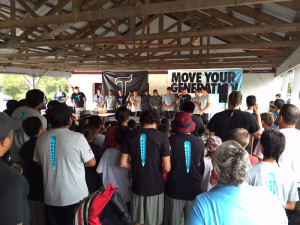 Onondaga Nation- How do four of the top players on the Nationals Lacrosse team prepare for the upcoming World Games on their Nation? Extra practice, sprints, re-string a stick or two? Yes, there is that. Plus for the Thompson brothers: Jeremy, Hiana, Miles and Lyle, they decided to put on a lacrosse camp for the Onondaga Nation youth.
The Thompson Brothers travel all over Turtle Island to many different communities who want to learn about lacrosse from one of the most recognizable names in lacrosse today.  Jeremy, the eldest, just won a MIL Championship with the Edmonton Rush, Hiana, recently finished a breakout season with the Buffalo Bandits, Miles was awarded the Tewaraton Trophy for the best collegiate player in 2014 and had a great rookie season with the Minnesota Swarm, and Lyle is a two-time Tewaraton Award winner who made a splash in professional lacrosse with the Florida Launch this spring.  Their camps draw hundreds of youth who want to learn and see in person what they can do with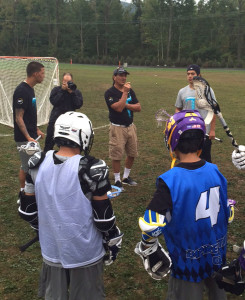 their lacrosse stick and ball.
"We thought kicking of the World Championships with a camp would be great," said Jeremy Thompson.  "Lacrosse has given us so much and we consider this a give back to youth of our community."
The Thompson Brothers N7 Lacrosse Camp does just that.  The Thompson Brothers have partnered with Nike to bring lacrosse to native youth across the country.
"We know that there are obstacles out there for our youth," stated Jeremy.  "We all have to face them and continue to stay strong and continue to keep moving forward in a healthy way.  Lacrosse has done that for me and my brothers."
That message resonated with the youth on the Nation.  Over 220 kids showed up for the three day lacrosse camp.  Not only were there children from Onondaga and other Haudenosaunee communities, but natives from Michigan, Oklahoma, Seattle, South Dakota and Ojibways from Canada made the trip to Onondaga.
Jeremy commented on the awesome turnout from young kids to teens. "It was so good to see the turnout that we had for this tournament.  It really lifted our spirits."
For the Thompson brothers, the camp is more than just learning new skills and maybe hitting the bulls-eye on the dunk tank.  It is about teaching about the lacrosse and what it means to our people.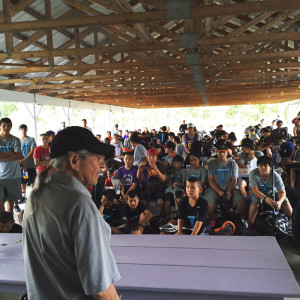 "When we go to other places we talk about the origins of the game, the importance of the wooden stick, and the importance of using a good mind when you play.  The kids at this camp got a treat as we had Oren Lyons, Alfie Jacques, Brett Bucktooth and Neal Powless help talk to the kids," said Jeremy.
Jeremy explained that it was great to hear Oren talk about the importance of the game.  That everyone has a special gift and not to get down on yourself.  Alfie talked about the responsibility he has to ensure that wooden sticks are still being made and used on Mother Earth and in Creator's Land. Brett and Neal talked about their journey through high school, college, National Championships, and professional lacrosse.
"It was really great that the kids could hear from Neal," Jeremy continued.  "He gave them great advice and guidance to help them go further in lacrosse."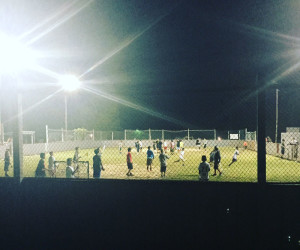 Not only did the kids had a great time learning from the Thompson brothers, but they were all provided with two t-shirts, socks, and a backpack, all with the signature Thompson Brothers braided "T".
The participants also got a sneak peak of the new Thompson Brother Nike lacrosse cleat.  The cleat is set to be available in October and is blue with water designs printed along the Nike swoosh.  But for Jeremy, the shoe holds special significance.
The shoe symbolizes a time when Jeremy was facing his own obstacles.  As Jeremy and his father sat by the stream.  His father asked Jeremy what he saw.
"It was then that I understood that water is power. That's why we give thanks for it.  The water came to the rock and went around it.  Water came to its obstacle and just kept going.  I learned from the water that there is strength in overcoming your obstacles.  Everything is not always perfect, but if you're like the water, you will find a way."
So Jeremy and his brothers look forward to teaching more and more youth about the game they love while playing other Nations from around the world in the championships starting on Friday.
"We feel like we are here for the kids.  Want to create a great atmosphere for the kids.  We want our ripple effect to be as big as we can," Jeremy said with a smile.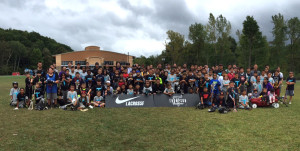 This camp did just that.