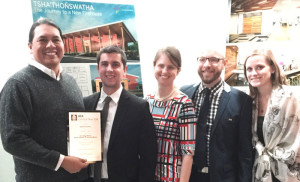 Syracuse- On November 7th, the CNY Chapter of the American Institute of Architects awarded Ashley McGraw Architects and the Onondaga Nation the 2015 Award of Excellence for Tsha' Thoñswatha (the Onondaga Nation firehouse and community room).  This award is AIA-CNY's highest honor for design excellence.
"Receiving this award is very gratifying," said Andrew Schuster of Ashley McGraw Architects. "It was good to have the work we did to incorporate the ideals of the Nation into this project recognized.  We did something special here."
The planning and construction of Tsha Thoñswatha was unique.  The building was built to mirror the ideals of the nation of working harmoniously with Mother Earth.  That meant a lot of planning of the best building placement for solar electricity, geothermal heating and cooling, and the selection of materials.
"We took the council's lead in designing this building," added Schuster.  "We were constantly asking ourselves, is it natural, is it local, can it be recycled, and can it be built without a petroleum based material? What we ended up with is a beautiful wooden building that is fit carefully into its context."
The building fits well into the community.
"We think that these types of buildings not only fit into our community but other communities who want to make a change," added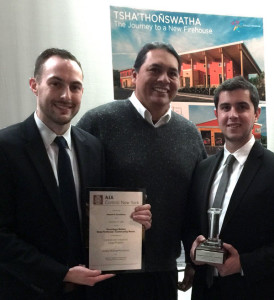 Onondaga Council member Brad Powless.  "This building was built with our future in mind.  Questions such as how we conserve energy used to heat and cool Tsha' Thoñswatha and what we are leaving behind was just as an important factor as size and layout."
Tsha' Thoñswatha was designed to achieve the highest levels of LEED Certification although it was not submitted for certification.
"It was an honor to design and work with the people of the Onondaga Nation," added Kyle Gregory of Ashley McGraw Architects.  "If more communities and architects begin to design with the Onondaga's ideology of preserving the environment for future generations, we can make a real change.  This building is an awesome example of how that can be done."
Tsha' Thoñswatha is a special building indeed.
To Read more about Tsha' Thoñswatha