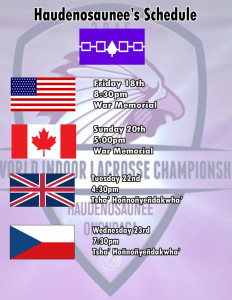 The Onondaga Nation is excited to host to the FIL World Lacrosse Box Championships starting
Friday, September 18th and running through Sunday, September 27th.  Twelve nations have sent their teams to play in this historic tournament.  Those teams are: Australia, Canada, Czech Republic, Finland, Germany, Ireland, Israel, Serbia, Switzerland, Turkey, United Kingdom, United States and our Iroquois Nationals.
The opening ceremonies and 2 games will be held at the War Memorial in Downtown Syracuse, Tsha' Hoñ'noñyeñ'dakwha' on Route 11 and Tsha' Thoñ'nhes on Route 11a on the Onondaga Nation will host the round robin games and the finals will be played at the Carrier Dome at Syracuse University.  Please visit WILC2015.com for ticket information.
Click below for your favorite teams schedule for the 2015 World Championships.