By S. Hill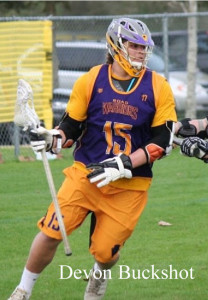 In December of 2015, six boys representing Onondaga traveled to Wesley Chapel, Florida to participate in the Annual Dick's Tournament of Champions field lacrosse tournament. The boys played in the 18U Elite division. They were team members of 'Road Warriors'. On the team were Devon Buckshot, Levi Confer, Percy Booth, Mitchell Laffin, Kingsley Lyons III and Emerson Shenandoah.                           
The Photo shows #15 Devon attacking the net in game 2, and below is the plague he was awarded.  A big Congratulations to Devon on receiving this prestigious award!
The team would ultimately bring home the bronze medal.  
Devon was named the 2015 All-Tournament Team powered by Under Armour. 10 players in each division received the honor based on Stars of the Game voting by coaches following all games on the first two days of the event.
Lenny Lyons loves the outdoors, and he also loves to run. His two older daughters, Kirstin and Courtney, have the passion to run as he does, and sometimes all three will enter runs together. When his daughters attended Syracuse University, at times, they could be seen running side by side around the SU campus.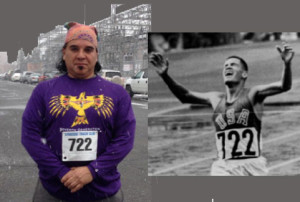 On Saturday, January 1st, 2016, Lenny participated in the 2nd Annual New Years Resolution 5K Run. The course was held through the town's streets of Skaneateles. Lenny regularly enters 5K and half marathon races all year long around the State. But this particular run was more   exciting than all the others. Why, because for this run he was given bib #722. Lenny says he always wanted to wear this number. This number is special because it is the same bib number that Billy Mills wore when he won a gold medal in the 10,000m event at the Summer Olympics. A feat that Billy achieved in Tokyo 1964. Bib numbers are assigned randomly as people register.
So yes, after years and years of entering running events, and in Lenny's first run   of 2016, he was extremely exciting that he finally got to wear Billy Mills' Olympic number.
Keep up the good work Lenny!