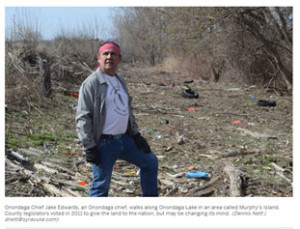 Syracuse.com. — Onondaga County officials appear to be flip-flopping on a 2011 promise to turn over a portion of Onondaga Lake shoreline to the Onondaga Nation.
The county's environment director, Travis Glazier, told a committee of county legislators today that the county should keep all land it owns along the shore for public use. The Environmental Protection Committee then voted 4-0 on a resolution to keep every inch of the shore open to the public.
That flies in the face of a 2011 resolution in which the county legislature expressed "its support for the eventual transfer of the parcel currently known as Murphy's Island .. to the Onondaga Nation." The resolution said the 36-acre parcel, near Destiny USA, would be transferred to the nation after it was cleaned up. That hasn't happened yet.