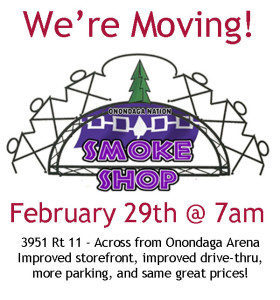 The Onondaga Nation is pleased to announce a location change for our storefront of the Onondaga Nation Smoke Shop.  The Smoke Shop will be moving across Rt 11, directly across from Tsha' Hoñnonyeñdakwha (Onondaga Nation Arena).
The Smoke Shop will only be closed for a few short hours from Sunday, February 28th at 6pm until the new storefront opens at 7am Monday, February 29th at the new location.
Follow us on Facebook!