ONONDAGA NATION'S STATEMENT OF SUPPORT
FOR THE STANDING ROCK SIOUX' RESISTANCE
TO THE "DAKOTA ACCESS PIPELINE"
         The Onondaga Nation issues this statement of support to our sister nation, the Standing Rock Sioux, and to their physical and legal resistance to this destructive and dangerous pipeline.  Onondaga shares the multiple concerns presented by the Army Corps' rushed and extremely flawed approval process and we call upon the US District Court for the District of Columbia to issue the requested preliminary injunction to halt the construction of this pipeline.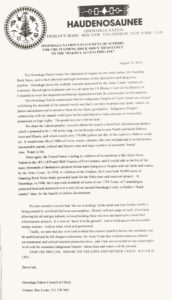 The Onondaga Nation understands that the Indigenous Peoples of Turtle Island are charged with being the stewards of the natural world; and that it our duty to protect our lands, waters, air, plants and animals and to preserve them for the future generations.  Indigenous Peoples' relationship with the natural world goes far beyond federal or state concepts of ownership, possession or legal rights.  The people are one with the land.
         We share the Lakota peoples' concerns about this massive fossil fuel infrastructure project, which is planned to be 1,166 miles long, to run through what is now North and South Dakota, Iowa and Illinois; and which would carry 570,000 gallons per day of the explosive Bakken crude oil.  It would cross 10s of 1000s of rivers, creeks, streams, lake and wetland and it would destroy innumerable sacred, cultural and historic sites and large numbers of ancestors' burial sites.  Water is life.
         Once again, the United States is acting in violation of its promises to the Great Sioux Nation in the 1851,1859 and 1868 Treaties of Fort Laramie; and it would add to the list of the many thousands of destructive projects forced upon Indigenous Peoples and our lands and waters by the Army Corps.  In 1958, in violation of the Treaties, the Corps took 56,000 acres of Standing Rock Sioux treaty protected lands for the Oahe dam and reservoir project.  At Onondaga, in 1948, the Corps took hundreds of acres of our 1794 Treaty of Canandaigua protected land and destroyed over a mile of our sacred Onondaga Creek, to build a "flood control" dam, for the benefit of settlers downstream.
         We also remind everyone that "the ice is melting" in the north and that Mother Earth is being cooked by our fossil fuel over-consumption.  History will not judge us well, if we keep allowing the oil and gas industry to keep building these massive and destructive fossil fuel infrastructure projects.  It is time to "leave it in the ground"; and to build green and renewable energy sources—such as solar, wind and geothermal.
         Finally, we note that due to its rush to build this massive pipeline before the resistance can be mobilized and its full dangers understood, the Army Corps has violated numerous federal environmental and cultural resource protection laws;  and it has not consulted on any meaningful level with the numerous Indigenous Nations' whose land and waters will be crossed.
         STOP THE PIPELINE.  HONOR THE TREATIES AND MOTHER EARTH.  WATER IS LIFE.