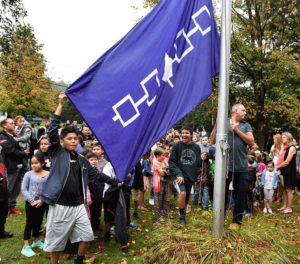 Syracuse,com by Sarah Moses
ONONDAGA NATION — Onondaga Nation parents and children gathered this morning to walk back to the Onondaga Nation School nearly three months after walking out of the school in protest.
In June, students were removed from the school two weeks early amid a debate over the LaFayette Central School District's decision to hire a Fayetteville-Manlius School District employee for the nation school's next principal. Onondaga Nation leaders and members were upset that Simone Thornton, a teacher at the school who is a member of the nation, was not selected for the position. Amid the debate, the newly hired principal turned down the position.
The principal debate sparked numerous other issues and concerns that nation leaders and members had with the school, its former principal, the district and its former superintendent.
"It's been a long summer," said Onondaga Nation Clan Mother Wendy Gonyea. "We've had good dialogue and we're healing some old rifts. We're moving in a positive direction for the new school year for the kids."