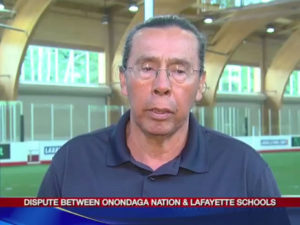 LocalSYR- Andrew Donovan
(WSYR-TV) – As Laura Lavine runs as a Republican for Mayor of Syracuse, she's finishing up her tenure as superintendent of the Lafayette School District. In her final days, the district is being criticized for not working with the Onondaga Nation.
Leaders of the Onondaga Nation are upset about the district's decision to not hire Simone Thornton, a member of the nation community, as the next principal of Onondaga Nation School
It's one of only three schools in New York State on sovereign land and the Nation claims it can contest which district runs the school.
Nation leaders have decided to end the school year early for its students who attend the school, which serves Kindergarten through 8th grade.
Nearly 95 percent of the student body is no longer attending the school this year, and many of them are spending time at the Nation's Lacrosse Arena where Clan Mothers are organizing events and serving lunch.