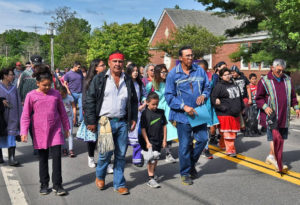 Syracuse.com by Sarah Moses
LAFAYETTE, N.Y. — LaFayette Superintendent Jeremy Belfield said he wants to hire a former Homer school district administrator as interim principal at the Onondaga Nation School.
Linda Llewellyn was the director of instruction at Homer Central School District and recently retired.
Belfield said he called 10 retired administrators and nine were not available to take the position. Llewellyn told Belfield she would be available in mid-August. Llewellyn has not been hired at this point. Belfield said he's trying to meet with leaders of the Onondaga Nation to discuss the position.
No immediate changes are planned, but the future relationship between the district and the nation is unclear.
The LaFayette school district announced earlier this month that it is considering not renewing its contract with New York state to oversee and operate the Onondaga Nation School. The contract to operate the school ended June 30, 2016.
The possibility of not renewing the contract has come up following a dispute between the nation and the district over who should be principal of the Onondaga Nation School. Onondaga parents took their kids out of school on June 21 in protest.
Members and leaders of the Onondaga Nation say they want to work on the relationship with the district. They say they have taken the first step by forming the Onondaga Nation Education Advisory Committee called Gawennahawi's.