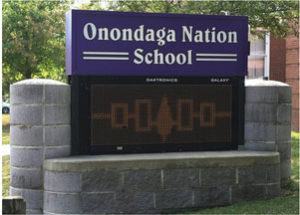 Syracuse.com Sarah Moses
LAFAYETTE, N.Y. — A newly hired principal of the Onondaga Nation School has decided to not take the job, LaFayette Superintendent Laura Lavine said Friday afternoon.
Warren Smith, an assistant principal at Wellwood Middle School in the Fayetteville-Manlius School District, was hired to be principal at the school, which is located on the Onondaga Nation. He was scheduled to start July 1.
Leaders and members of the nation wanted the district to hire Simone Thornton, a member of the nation and a kindergarten teacher at the school. She was a finalist for the job.
A group of Onondaga members and leaders said recently that they were considering legal action against the district. The group demanded that the district revoke the hiring of Smith and reconsider Thornton.