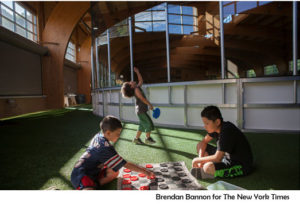 NYTimes – Kate Taylor
ONONDAGA NATION — On Thursday evening, after the last day of classes at the Onondaga Nation School here, students and families plan to gather at the Tsha' Thoñ'nhes, or sports pavilion, to celebrate the eighth graders. There will be singing and dancing. Parents will give the eighth graders beaded necklaces signifying their clans and the younger students will give them presents.
While it will not be an official graduation ceremony, the families in the nation, south of Syracuse, hope to make it as festive as possible, to put an exclamation mark on the end of a year that is otherwise ending in uncertainty and discord.
Since June 16, most parents have kept their children home from school. They are protesting what they see as disrespectful actions by the local school board, which manages the school under a contract with the state but has no Onondaga representatives. The families say that they and the nation's leadership have been excluded from decisions about hiring and budgeting.