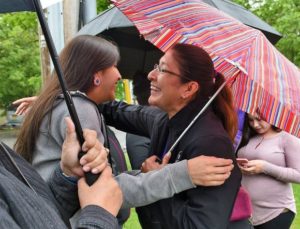 Syracuse.com by Sarah Moses
LAFAYETTE, N.Y. — The Onondaga Nation School teacher at the center of the principal debate between the Onondaga Nation and LaFayette Central School District was appointed to a newly created administrator position.
Simone Thornton, who was one of the top three finalists for the school's principal in May, was appointed as dean of students at the school. Her appointment was approved by the LaFayette school board Thursday evening.
An interim principal was also appointed to the lead the school for the upcoming school year.
John Gizzi, a former LaFayette High School teacher and assistant principal, will serve as interim principal. He is scheduled to start Tuesday. He retired from the Cincinnatus Central School District in 2013 and previously served as the Lansing Middle School principal. Gizzi is currently the director of humanities at the Marcellus Central School District.