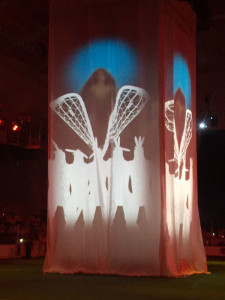 Syracuse- The 2015 Opening Ceremonies at the Syracuse War Memorial was truly memorable.  This was the first time an Indigenous Nation hosted an International event. The Onondaga Nation, the Central Firekeepers of the Haudenosaunee welcomed all from around the world with a taste of our culture.
There was a large illuminated display in the center of the arena that told two stories.  The first story told of the formation of the Haudenosaunee.  This was a time when the Nations were warring against each other and it wasn't until the Peacemaker was able to join us all together in Peace that we became the Haudenosaunee.  The second story told of Creation, with Skywoman.  She came to us from the heavens.  When she arrived on the turtles back, she gave birth to two twins, one good, and one evil.  The twins were always in disagreement.  To settle their disagreement, the played a game called Dehoñtshigwa'ehs.  With that, the dancers entered the area.  All of the six nations danced as they led in the teams from all 13 countries with Team Haudenosaunee getting a huge ovation.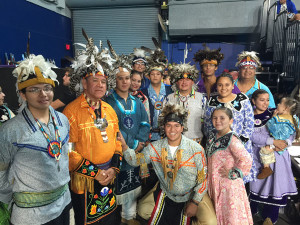 After the Haudenosaunee dignitaries, Tadodaho, Tracy Shenandoah, and Oren Lyons welcomed the crowd, it was time to play.  And an inspired National team took the floor against Team USA. The Nationals scored first and Miles Thompson added another to make it 2-0.  Miles then had a beautiful quick stick blast after a Shattler goal and the first period ended with a 4-2 lead.
The Nationals continued to pressure the USA goal keeper and extended the lead to 6-2 with Miles Thompson's third goal. Team USA then took advantage of some power play opportunities and closed the gap to 7-4.  As the period was about to close, coach Rich Kilgour called a timeout after the Nationals gained possession with 5 seconds remaining before half.  With just a few seconds remaining, Lyle Thompson was able to find some room to fire an outside blast to score with 1 second remaining to make it 8-4.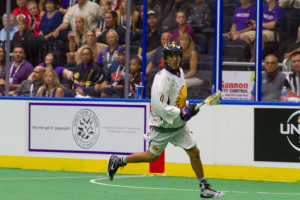 The second half saw Team USA tighten things up.  Soon the score was 8-7 before Lyle Thompson broke through the middle to make it 9-7 which was quickly followed by a Shattler goal to make it 10-7. The Nationals continued to find the back of the net and the score making the score 12-7 before USA and the Nationals scored their last goals of the evening for a 13-8 victory.
Up next for the Nationals is a matchup with Team Canada on Sunday.
It was a good night.